Why J&A Hospitality Staffing
Our team has over 44 years of experience in the hospitality industry, talent search, placement search and staffing overall.
We are a premier provider of temporary staffing solutions servicing the Washington, D.C. metropolitan area. We deliver staffing solutions for the Hospitality industry while building lasting relationships based on trust, respect, equality, and integrity. No matter what needs our clients have to fill, J&A Staffing focuses on identifying the most qualified professional candidates with the intent to match them to the specific job requirements by contributing to the community by filling a need for specialized, trained staff. J&A Staffing stands behind our candidates and guarantee our clients' satisfaction.
J&A Staffing is an equal opportunity employer who abides by all relevant federal, state, and local laws and regulations. J&A Staffing refers to qualified workers regardless of race, religion, color, age, gender, marital status, national origin, sexual orientation, or disability.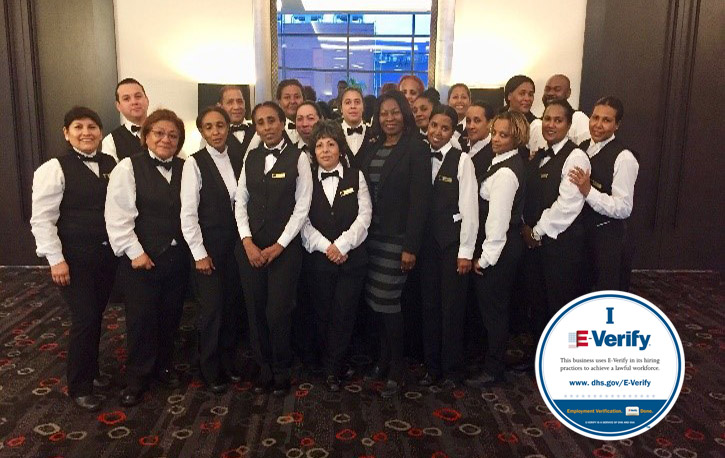 Types of Jobs We Fill
J&A Hospitality works diligently to fill jobs in a few different categories and industries. Here are some of the many positions we fill:
Administrative Services
Administrative Assistants
Clerical Supports
Customer Service Representatives
Data Entry Clerks
Executive Assistants
Office Administrators
Receptionists
Information Technologies Services
Data Entry Clerks
Data processing & Preparation
Hospitality Staffing Services
Convention/ Event/ Conference Staff
Banquet Server
Certified Bartender
Banquet Captain
Banquet Houseman
Bar Back
Sous Chef
Culinary
Prep cook (Hot or Cold)
Station Attendant
Steward
Host/Hostess, Front Desk
Pantry Prep